Suematsu Award "Fundamentals and Developments of Digital Technology"
Overview
The Suematsu Award "Fundamentals and Developments of Digital Technology" provides a broad range of support for researchers focusing on areas such as computers, robotics, and networks, and for research into applications of digital technology.
Former Tokyo Tech President and Honorary Professor Yasuharu Suematsu was awarded the Japan Prize in 2014 for his contributions to the development of high-capacity, long-distance optical fiber communications through his research at the Institute, particularly his groundbreaking research related to dynamic single-mode lasers. He donated a portion of the prize money to Tokyo Tech in hopes of encouraging young scientists and engineers to pursue research in diverse fields, develop new technology systems, and delve into the unexplored domains of science.Suematsu hopes to create a rising tide of activities that will progressively reveal the shape of the future. The Tokyo Institute of Technology Fund created the Suematsu Fund to promote research in line with Suematsu's vision. President and Representative Director Hisao Taki of Gurunavi Inc., a Tokyo Tech alumnus and supporter of the Tokyo Institute of Technology Fund since its inception, donated a significant additional sum, making the creation of this award possible.
FY2021 Application guideline【Internal】
FY2020 Grant Recipients
Three researchers were selected through the screening by internal and external judges.
Affilitaion
Title
Name
Research topic
Department of Mechanical Engineering,
School of Engineering
Associate Professor (Lecturer)
Satoshi MIURA
Control of the Interface for Locomotion Robots Using Artificial Intelliengence
Department of Information and Communications Engineering,
School of Engineering
Associate Professor
Yuko HARA
Development of Control Systems Design Methodology Towards IoT Edge Computing
Laboratory for Future Interdisciplinary Research in Science and Technology,
Institute of Innovative Research
Associate Professor
Yuya Shoji
Photonic Neural Network with Nonvolatile Photonic Devices
スワイプで続きをご確認いただけます
Grant Ceremony
On November 9, a ceremony was held to honor three Tokyo Tech researchers awarded the 2020 Suematsu Digital Technology Award.
Attending the ceremony were: the three award winners, President Kazuya Masu, Executive Vice President for Research Osamu Watanabe, Honorary Professor Yasuharu Suematsu, Chairman and Director of Gurunavi Inc. Hisao Taki, NEC Corp. Chairman of the Board Nobuhiro Endo, Professor Emeritus Katsuhisa Furuta, Fumio Honbo of the Tokyo Tech Alumni Association (Kuramae Kougyoukai), and the Executive Assistant to the President.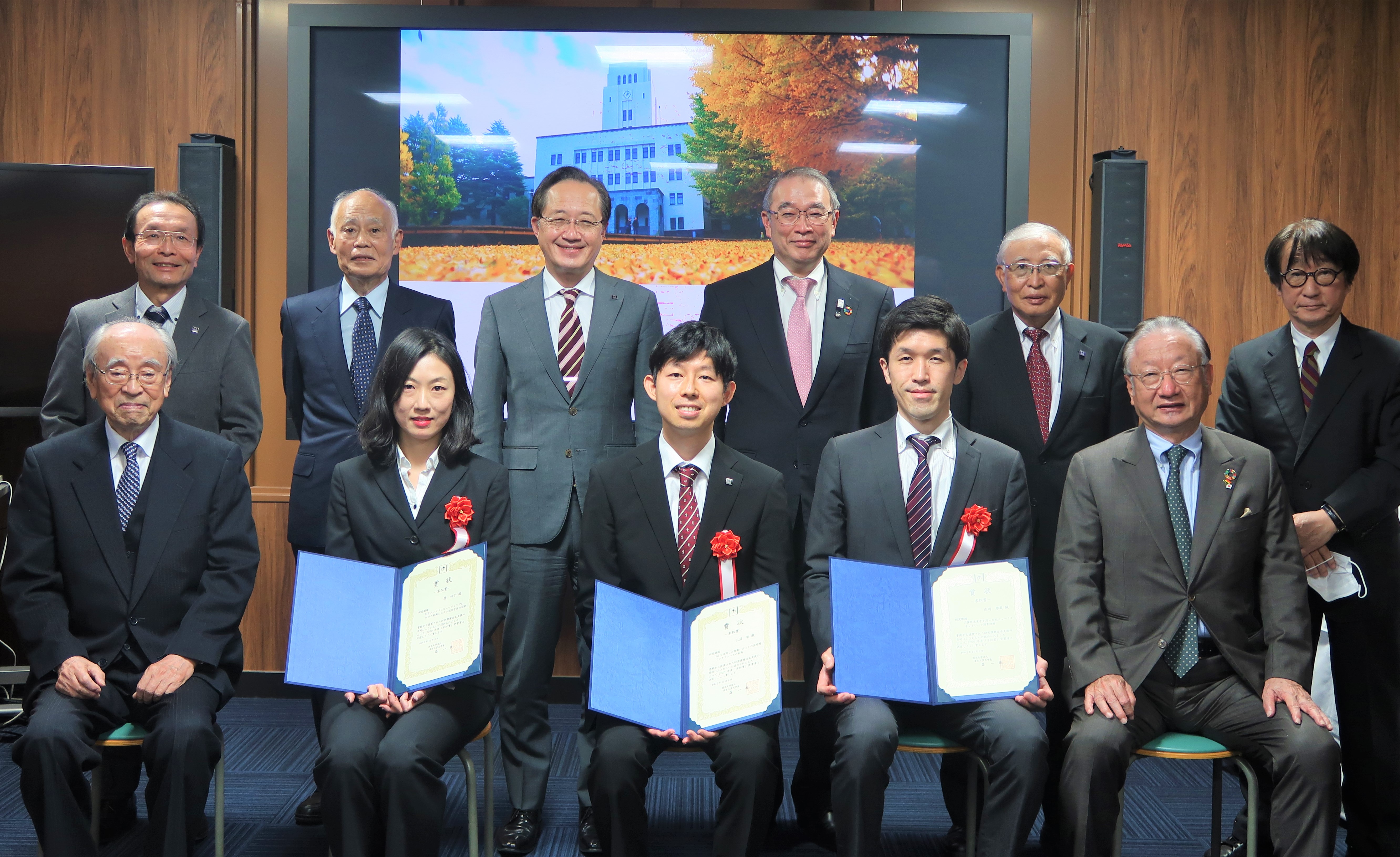 A presidential address was given by Masu, followed by congratulatory speeches by Suematsu and Taki. Then the three award recipients gave presentations on their research. Following their presentations, they received questions and many words of encouragement.