Donations for Education and Research
The Donation for Education and Research is a cash contribution made to Tokyo Institute of Technology for which the donor appoints one of our faculty members as the designated project coordinator. The donation will be used for promoting our educational and research activities and will be given back to the society through the achievements. Tax incentives are available for the donors.
Donation Application
Please send the Donation Application Form signed to the designated project coordinator (faculty member) or to the group in charge (Planning & Management Group, Industrial Cooperation Division). For the application forms received by the 20th of each month, the Payment Request will be issued to the donors around the 12th of the next month. Please decide your expected date of payment on the Application Form while considering this schedule.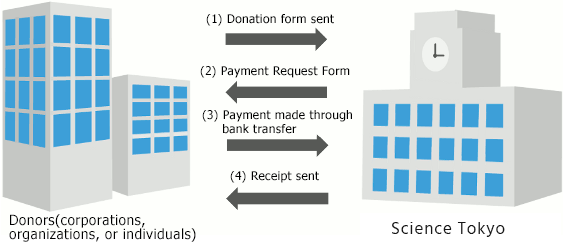 Payment
Please make a payment through bank transfer to Tokyo Tech's bank account stated on the Payment Request by the due date.
Issuance of Receipt
A receipt will be sent to the donor by the end of the next month following the date of the payment.
Tax Incentives
The following tax incentives will be given to the donors:
For corporations, the entire amount can be included in deductible expenses (Article 37.3, item ii of the Corporate Tax Act).
For individuals, a donation deduction can be made from taxable income* (Article 78.2, item ii of the Income Tax Act).
*Donations over 2,000 yen and up to a maximum 40% of your income can be deducted from your taxable income.
Information Disclosure
Upon request for information disclosure under the Information Disclosure System, information provided by the donors on the Donation Application Form may be disclosed excluding personal information.
【Precautions】Donation offers can NOT be accepted as Donation for Education and Research,
if the donor requires the intellectual properties including patent rights, utility model rights, design rights, trademark rights, copyrights, and/or other equivalent rights resulting from the academic researches shall belong to the donor
if the donor requires additional contracts to be signed by Tokyo Tech and/or its faculty members as well as any consideration such as research achievements in recompense for the donation.
Reference
Contact
Industrial Cooperation Operations Group, Industrial Cooperation Division, Research Promotion Department,
Tokyo Institute of Technology
E3-11, 2-12-1, Ookayama, Meguro-ku, Tokyo 152-8550
Tel: 03-5734-3816, Fax: 03-5734-2482
Mail : san.gyo[at]jim.titech.ac.jp